Smart device measures 'peelability'
Fraunhofer IVV in Dresden, Germany, has developed a new device for measuring how easily peelable the 'peelable' lidding on thermoformed plastics packaging actually is. The Pack Peel Scan system, which is equipped with machine learning, will be demonstrated at the K 2019 show in Düsseldorf, Germany (16-23 October).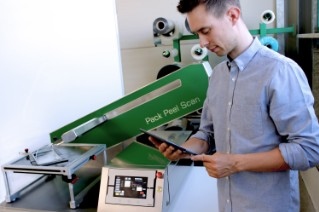 In order to compare these values with relevant standards, the device measures the force-displacement characteristics of the opening process. The system will adapt to test trays of different heights and shapes. Onboard artificial intelligence (AI) evaluates the force profiles detected and cross-checks them against guide values to identify any errors in the sealing process.
Machine learning can be combined with a system to communicate with line operators, for example to alert them to any deviation away from pre-set sealing parameters and to offer potential fault diagnosis.
The device was developed as part of a project run by the Central Innovation Programme for Small Businesses (ZIM).
The Institute will exhibit at another German trade fair this autumn, FachPack, Nuremberg (24-26 September), this time presenting simulation models which allow companies to combine packaging which is readily recyclable while meeting the physical and shelf-life needs of the product. Fraunhofer IVV explains that this allows changes to be made to packaging materials without the need for complex – and potentially costly – testing.